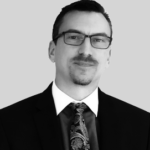 Mr. MacDonald is a driven and versatile entrepreneur with an intense focus on deliverables, team building, project management and uses a problem solving methodology that produces high quality outcomes.
Mr. MacDonald is also a passionate researcher and procurer of innovative technologies.
As a dedicated life–long learner Mr. MacDonald has successfully completed the Harvard Business School Program on "Disruptive Innovation Strategy" and MIT University's Program on "Blockchain Technology & Business Innovation" and the London School of Economics "Negotiation Programme". He also studied at Stanford University in the "Energy Innovation & Emerging Technologies Program".
Prior to assuming the role of Chairman & CEO of HyFi Corp, since late 2017 Mr. MacDonald has been and maintains his role of Chief Operating Officer at WPP Energy GmbH; adding Chief Innovation Officer to his title in 2020. As a key stakeholder at WPP he co-founded WPP Token, HyFi Token & HyFi Platform. He led the effort to create high level partnerships with Exchanges, Advisors, Developers, Investors, Community Support Personelle and other key ecosystem participants. While in his role at WPP Energy he successfully procured VORAX Waste to Energy technology and WPP's W2H2 Unconventional Water Electrolysis technology. Mr. MacDonald built a large academic and scientific team as well as building and training a global distributor/reseller network. He created dozens corporate partnerships and strategic alliances around Vorax and W2H2 technologies, including those with multi billion dollar companies and large educational institutions.
Mr. MacDonald is passionate about renewable energy and making an impact in developing nations, having witnessed first-hand unacceptable living conditions in Africa. He has traveled to several second & third world nations to gain a deeper boots on the ground understanding of the challenges and how renewable energy and environmental technology solutions can bring about positive change.
He is a former 4 time National Award Winner for outstanding business development as a HNW Private Banker with TD Bank (a Top 25 World Bank) and National Employee of the Year with HFC/HSBC.
Mr. MacDonald is also an internationally known Numismatist with a 43 year, 2 generation history in physical currency. The transition into digital currency was a welcome fresh challenge for a banker/currency expert with a thirst for knowledge.
Mr. MacDonald was a Competitive Over the Board Tournament Chess Player (4 World Opens, the World Chess Festival & the Pan American Games). He considers chess to be an intellectual blood sport and often approaches business through the lens of a chessboard, where positional weaknesses are of the greatest concern and knowing how to achieve and maintain a winning initiative is a must.