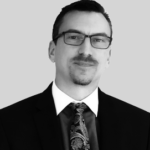 Mr. MacDonald is an exceptional builder, passionate about disruptive technologies & new/improved business methods. As Co-Founder, Chairman & CEO of HyFi Corp, a USA Public Company, he is focused on impact investing & ESG project funding to advance markets in Renewable Energy, Environmental Science, Agrifoods etc. In his concurrent role as COO & CIO (Chief Operating & Innovation Officer) & Stakeholder at WPP Energy he has built a multi billion $ order-book of sales contracts. He also assembled & leads a team of scientists & product distributors in Green Energy & Waste to Energy. He is the lead business architect of multiple R&D & commercialization initiatives which span multiple nations. He is an entrepreneur/innovator who enjoys advancing new technologies & building businesses. A technician focused on implementation of sound business strategies & tactics.

He is a dedicated life-long learner who successfully completed Harvard Business School's program "Disruptive Innovation Strategy", MIT University "Blockchain Technology & Business Innovation", London School of Economics "Negotiation Programme", Wharton School of Business "Business in the Metaverse Economy" program. He also participated in the Stanford University "Energy Innovation & Emerging Technologies Program". Next up in March 2023 is Harvard Universities "Sustainable Investing" program.

Experienced in environmental technology, finance, traditional & HNW banking. Formal education in fintech, blockchain business platform integration & digital currency,

Passionate about renewable energy & waste management & on making a global impact, he has traveled to 2nd & 3rd world nations to gain a deeper boots on the ground understanding of the challenges & how innovative environmental & digital technologies & solutions can bring positive change.

He is a 4 time National Award Winner in business development as a HNW Private Banker at TD Bank & National Employee of the Year HFC/HSBC.

He is also an internationally known Numismatist, a family with a 44 year, 2 generation history in historical collectible currency. He is also a gemstone and precious metals enthusiast with decades of experience in the precious metals & precious gems industries.

He was a Competitive Over the Board Tournament Chess Player (4 World Opens, the World Chess Festival & the Pan American Games). He often approaches business through the lens of a chessboard, where positional weaknesses are of great concern and knowing how to obtain and maintain a winning initiative is a must.

He also provides Mentoring/Advisory/Board Services.