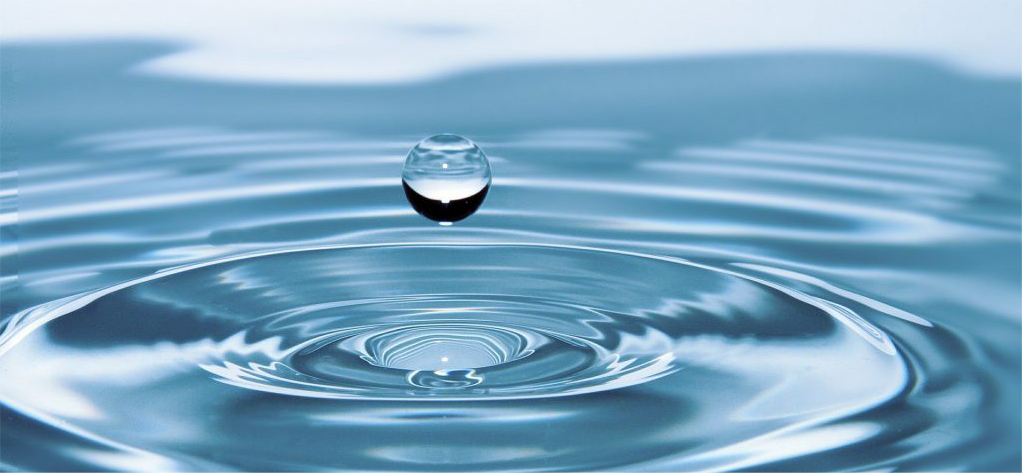 4 OTC Stocks Making Waves: BOPO FDVRF JZZI VGLS
Stocks markets closed lower last week, with the OTCQX Composite index, which tracks over 400 OTC stocks, declining to the lowest level since the end of July. Investors are waiting for the Fed's statements to be released later this week by the central bank presents the interest rate decision.
While the economic recovery continues, investors are still worried about the high inflation and the surging number of COVID cases. Recently, the FDA gave Pfizer full approval for its COVID vaccine, but the regulator failed to approve the third dose to be used by the masses and instead gave emergence use authorization for a booster dose for people 65 years of age and older.
Meanwhile, US consumers show signs of confidence, with the University of Michigan's consumer sentiment index increasing to 71 in the first two weeks of September from 70.3 in August, which was the lowest since December 2011.
The survey's director Richard Curtin said:
Despite the general uncertainty, there are dozens of OTC stocks defying the bearish mood, and we at Insider Financial help subscribers identify those with the most potential, giving investors the opportunity to secure big returns that just aren't possible with blue chips.
OTC stocks the place to be
There are many good OTC stocks that can boost your portfolio's value in the long term. For investors, we preach the key to trading penny stocks is finding momentum BEFORE it happens and ahead of the crowd.
We alert our subscribers with our best ideas before our regular readers. This is the value of having a subscription to Insider Financial, which you can sign up for here.
If you watch the Insider Financial YouTube channel, you can get a sense of the ideal time to book profits. We warned our subscribers not to get greedy or get caught up in the diamond hands/paper hands BS.
We also recommend you own a portfolio of penny stocks. For some, that can be as many as 10 to 20 or more OTC stocks. This provides diversification and allows one to manage the market's moods much easier. It also helps to own shares in the following 4 hot OTC stocks.
In this article, we look at 4 hot OTC stocks that will greatly reward patient investors. They are BioPower Operations Corporation (OTCPK: BOPO), Facedrive Inc (OTCQX: FDVRF), JZZ Technologies, Inc (OTCPK: JZZI), and VG Life Sciences Inc (OTCPK: VGLS).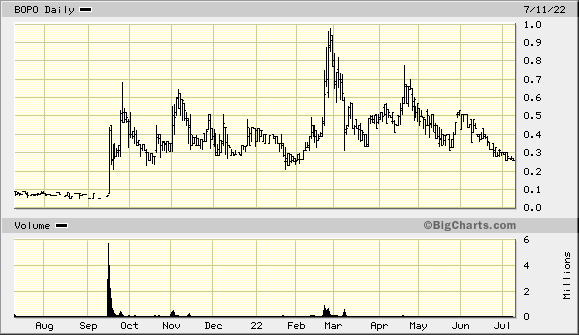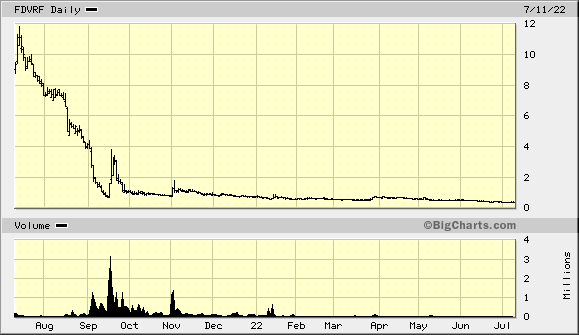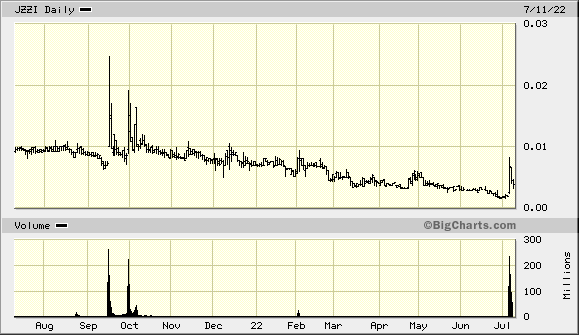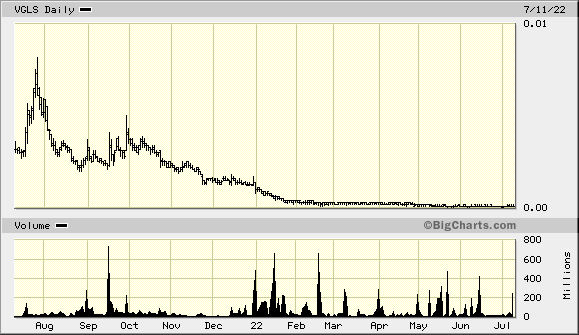 OCT stocks to watch #1 BOPO
BioPower Operations Corporation has had an incredible week and this might just be the beginning for this one-of-a-kind crypto play. Despite losing 37% on Friday, BOPO is up 336% since Monday and has gained over 424% since the beginning of the month. On Thursday, the share price rose to $0.43, which is the highest level in almost a decade.
At the end of June, BOPO entered into an asset purchase agreement with the HyFi team to acquire certain assets comprised of the goodwill, intellectual property, business proprietary know-how and trade secrets, intangible property, and other assets of HyFi business and any and all rights of sellers and certain governance/utility virtual tokens called HyFi Tokens, which are expected to be used as a means of payment on the HyFi Platform.
The HyFi Platform is a decentralized finance (DeFi) exchange marketplace that relies on blockchain technology. The platform relies on tokenization and non-fungible tokens (NFTs) for production, licenses, projects, and commodities across vertical and horizontal markets. DeFi and NFTs are the fastest-growing sectors within the crypto industry. DeFi in particular may be one of the most important industries, as it builds on the promise of decentralization. Bank of America and ING have separately concluded that DeFi was more disruptive than Bitcoin itself.
Besides the assets, HyFi agreed to pay $300,000 and transfer 400 million HyFi tokens to BOPO. The company plans to use the cash to achieve a fully reporting status with the SEC and for public company operating expenses.
HyFi is about to launch its platform by the end of this year and it will start tokenizing hydrogen and then other energy assets, including solar and wind.
Through the deal with HyFi, BOPO has a connection with WPP Energy GmbH, which seems to be the parent company of HyFi. In fact, in 2019, BOPO entered signed an MOU with WPP Energy GmbH and China Energy Partners, but after exhausting all efforts, it was unable to negotiate a definitive agreement or close the transaction. Despite this disclosure, investors still anticipate a huge reverse merger with WPP Energy, which acts as a repository for disruptive green energy and environmental technologies which it builds or intend to build, own, operate, and maintain. WPP has partnered with dozens of major businesses, including Siemens and Baker Hughes.
Recently, HyFi has entered into its first License Agreement with WPP Energy for the HyFi Technology License Platform Economy. The license includes HyFi's Cash Flow NFT model for WPP's W2H2 Technology Licenses, and HyFi's Green Energy Trading Systems for W2H2 Future Hydrogen Production. HyFi blockchain will be used as a marketplace for WPP's licenses that will be sold as NFTs.
With only an $11 million market cap, BOPO is tapping into the fastest-growing industry and gains access to huge businesses. It is moving towards a reverse merger either with HyFi or even Swiss-based WPP. BOPO's former CEO Robert Kohn resigned recently and was replaced by HyFi CEO and WPP COO Troy MacDonald. The sky is the limit for BOPO, and you can get exposure to this OTC stock before it's too late.
OCT stocks to watch #1 BOPO
Facedrive Inc has been on the rise since last week, although it's down almost 60% over the month. In fact, it bottomed out on September 15 when it fell to a record low at $0.71. The OTCQX stock then surged to a swing high at $3.46 on Friday. It has been a difficult year for Facedrive, as the stock has tumbled from the YTD high at over $45. However, this might be a great opportunity for investors to buy the dip. Now you can pay $2.14 for what was over $40 only a few months ago.
FDVRF operates as a ride-sharing business in Canada. It provides Facedrive Rideshare, an eco-friendly rideshare business, Facedrive Foods, a food-delivery business, Facedrive Health, a contact-tracing, and health services business, Facedrive Marketplace, an e-commerce business, and Facedrive Social, a social media platform, as well as Steer, an electric and hybrid vehicle subscription business.
The company became public last year with the promise of being an "eco-friendly" ride-hailing app that enables users to pick electric or hybrid vehicle options. Investors were excited about the stock, pumping it to a $1.4 billion market cap. However, as early as July 2020, when the stock was trading near $15, Hindenburg Research concluded that Facedrive struggled with the impact of the pandemic and was much overvalued. It said that the company made overstatements, adding:
Today, Facedrive has a new face after CEO Sayan Navaratnam and several members of the Board stepped down last month. The company has been struggling with internal legal issues that seem to be solving.
All in all, holding FDVRF is not about getting exposure to an exceptional business but buying the dip as the stock has found strong support.
OCT stocks to watch #3 JZZI
JZZ Technologies, Inc is a small company that is making some great progress after consistently declining for months. The OTC stock that goes with the Pink Limited Information symbol has gained 30% since last Monday, peaking on Thursday at two cents, which is the highest since mid-April. JZZI has pulled back and corrected to $0.0097.
The $4 million business is promoted as a diversified technology company rolling up projects and partnerships in two distinct business sectors that operate cohesively:
Its digital media business includes online media and apps (activelifestylemedia.com), content creation, digital marketing, streaming video content, publishing, and free over-the-air television (EyeOnTV) targeted at active adults 55+.
JZZI's other business focuses on strategic biotechnology and bioscience acquisitions related to Human Life Extension and Human Longevity that can be immediately leveraged to support improved quality of life for aging populations.
Last week, investors were excited to find out that JZZI's marketing division had received an independent assessment of its proprietary marketing database, indicating that the total record group has a base asset value of $13+ million, which is pretty great for a company whose market cap is only $4 million.
The third-party's valuation has been carried out using comparable commercial databases available for marketing to similar or identical target audiences. JZZI's proprietary database is comprised of the following vertical groups:
35 million-plus US Seniors (individual age 55 or older);
2 million US Physicians (by practice or specialty);
500,000 US Veterans (verified according to service).
The digital marketing division is working directly with its marketing partner Ever Convert to advance its marketing capabilities using these valuable databases. JZZ Technologies, Inc. is already employing its proprietary data to increase circulation of its digital newsletter from ActiveLifeStyleMedia.com and for its high-profile marketing partners, including Beacon Insurance, EyeOn TV Channel, and select eCommerce partners.
JZZI CEO Charles Cardona said:
Last month, JZZI said that it was expanding into Human Life Extension and Human Longevity sectors by targeting biotech and bioscience companies for M&As and partnerships. The company confirmed that it had no intention of diluting its current share structure and that it was working on updating the necessary filings.
We believe JZZI is starting a great journey. The latest price increase was accompanied by record volumes over 200x times the average, which marks the jump-start of a business holding valuable marketing assets and planning to leverage other lucrative sectors.
OCT stocks to watch #4 VGLS
VG Life Sciences Inc is another small company that goes with the Pink Limited Information symbol on OTC markets and is trading near its record low. The OTC stock surged on Thursday on record volumes, peaking at $0.0035, which turns out to be a strong resistance that couldn't be broken on repeated occasions since mid-August.
Still, the record trading volume of over 740 million shares on Thursday proves that bullish momentum is accumulating.
VGLS used to operate as a biotech business that researched and developed a pipeline of transformative therapies to combat cancer, infectious diseases, and autoimmune diseases caused by chronic inflammation. The company is now restructuring to focus on real estate investment and acquisitions.
So far, we know nothing about VGLS' plans, but it turns out the $4 million company shares the same address with Humble Energy, Inc, which also acts as a holding company that focuses on making investments in real estate assets. Moreover, Paul Strickland is director and secretary of both companies. HUML is a Pink Current company with over $44 million market cap. Any merger between the two might be huge for VGLS, which has a great share structure and no debt.
All of the 4 hot OTC stocks discussed today are on the rise and are good stocks to hold. Nevertheless, our best advice is to be patient and enter the market during corrections. Buying dips and selling rips as swing trades remains the best strategy in the penny stock market. Still, whenever a penny stock is in the middle of a bull run, we recommend our subscribers to book profits.
It's very important to eye best OTC stocks that have room for growth and have yet to make their explosive move. There are plenty of opportunities, and we take our time to monitor hundreds of penny stocks to buy each week, trying to find the best alerts for our subscribers.
Remember, all you need is one or two penny stocks to succeed in order to crush the market averages.
As always, good luck to all (except the shorts)!
WHEN INSIDER FINANCIAL HAS A STOCK ALERT, IT CAN PAY TO LISTEN. AFTER ALL, OUR FREE NEWSLETTER HAS FOUND MANY TRIPLE-DIGIT WINNERS FOR OUR SUBSCRIBERS. WE SPECIALIZE IN FINDING MOMENTUM BEFORE IT HAPPENS!
Disclosure: We have no position in any of the securities mentioned. We wrote this article ourselves and it expresses our own opinions. We are not receiving compensation for it. We have no business relationship with any company whose stock is mentioned in this article. Insider Financial is not an investment advisor and does not provide investment advice. Always do your own research and make your own investment decisions. This article is not a solicitation or recommendation to buy, sell, or hold securities. This article is meant for informational and educational purposes only and does not provide investment advice.
Copyright ©2023 HyFi-Corp